Trail 51 (Des Braves) was groomed one last time on April 3. Grooming is now over for the season.
Enjoy winter sports for free in an accessible and enchanting location with a spectacular view of the Saint-Lawrence River.
The Plains of Abraham provide more than 14 km of ski trails laid out for classic and skate cross-country skiing (beginner, intermediate and expert) and a 3.8 km trail (round trip) for snowshoeing.
New this year! The cross-country ski trails are getting names in addition to the numbers they already have. Besides adding a special touch to the trail experience, the names will help visitors learn about the park's history.
Trail 51: Des Braves, after the park at the site of the Battle of Sainte-Foy in 1760.
Trail 52: Gilmour, after the road that runs downhill from the Plains of Abraham to Boulevard Champlain. That name comes from John Gilmour (1812-1877), who opened a shipyard in the cove where the road comes down to the river.
Trail 53: Martello in honour of nearby Martello Tower 1. Like the other Martello towers of Quebec City, this one was built in the early 19th century to meet the threat of an American invasion.
Trail 54: Cap-Blanc after the staircase it goes by. Built in 1868, the staircase was used by workers to walk up to the Cove Fields munition factories.
Trail 55: Cap-aux-Diamants because it

partly follows the cliff edge of Cap Diamant

. That was a name given to the cape in the 17th century. The shorter version of "Cap Diamant" has prevailed since the 18th century.
Please use trails designed for your activity.
Practical Information
Map
Grooming
Equipment rental
Code of conduct
Signage


Practical Information
Access: Free.
Security Service: Report any issues or hazards to the Plains of Abraham Security (24/7) by calling 418-648-4652. A trail patrol is also performed on the Plains by the Canadian Ski Patrol.
Waxing room: A room is available next to trail 51, on the sports field (Montcalm entrance). It is open daily from 8 a.m. to 8 p.m. when the trails are groomed.
Parking: Several options are available on the park.


Map
See the winter map of the park for cross-country skiing, walking and snowshoeing trails.
5 classic trails: 1 easy trail, 3 intermediate trails and 1 expert trail
3 skate trails: 1 easy trail, intermediate trail and 1 expert trail
1 snowshoeing trail


Grooming
Follow trail grooming in real-time on Web Nordic Pulse app.
Grooming of the trails is done on a daily basis when conditions permit. Please note that precipitations of rain, snow and sleet can delay or prevent grooming as well as deteriorate trails already groomed. Depending on conditions, between five and ten hours of work are required to cover all the trails with the machinery.


Equipment rental
You can rent equipment at the skaters' chalet of the Plains of Abraham Skating Rink (Classical skis and snowshoes for adults and children) from 10 a.m. to 10 p.m.
Fees:
Skis for adults: $25 / 2 h or $35 / half-day
Skis for children: $15 / 2 h or $18 / half-day
Skis for a family*: $50 / 2 h or $65 / half-day
Snowshoes for adults: $10 / 2 h
Snowshoes for children: $7 / 2 h
Snowshoes for a family*: $30 / 2 h
* 2 adults and 2 children
Prices don't include taxes. A $10 fee applies after a 15-minute delay.


Code of conduct
Please observe a few guidelines so that everyone can enjoy a fun and harmonious winter.
Respect the environment and follow the rules of the Plains of Abraham.
Be courteous to other park visitors.
Follow instructions given by patrol staff and by safety and prevention officers.
Skiing
Remain on the track prepared for your skiing style (classic or skate ski) and follow the indicated direction.
Maintain a safe distance between yourself and the skier ahead of you.
Step off the trail if you stop or fall so that you do not hold up other skiers.
On a single track, signal your intention to pass another skier without being rude.
On a double track, use the left lane to pass other skiers and remain in the right lane if you are skiing more slowly.
On hills, start your descent only after the skier ahead of you has reached the bottom of the slope.
Be aware of other park visitors, especially near walking trails and areas for sliding.
Walking and snowshoeing
When using the trails, keep to the space prepared for your activity.
Do not walk or snowshoe on the ski trails. It's about safety and respect for the work done by the trail groomers.
Thank you for your cooperation and enjoy this beautiful slice of nature in the heart of the city!


Signage
Please pay attention to the signs installed on the Plains and respect their indications. It's a question of safety for all users and respect for the team that groom the trails!
You will find here some information on the different signs that you can see in the park: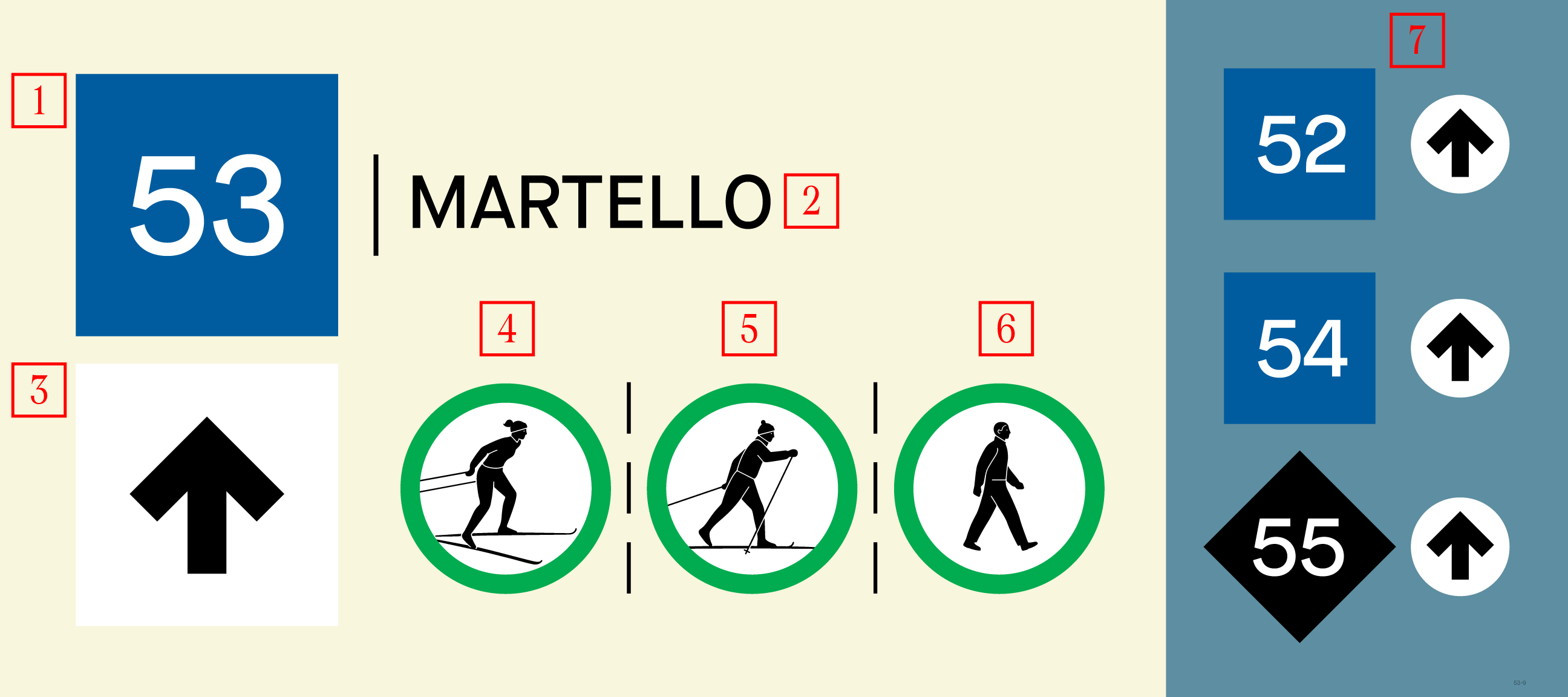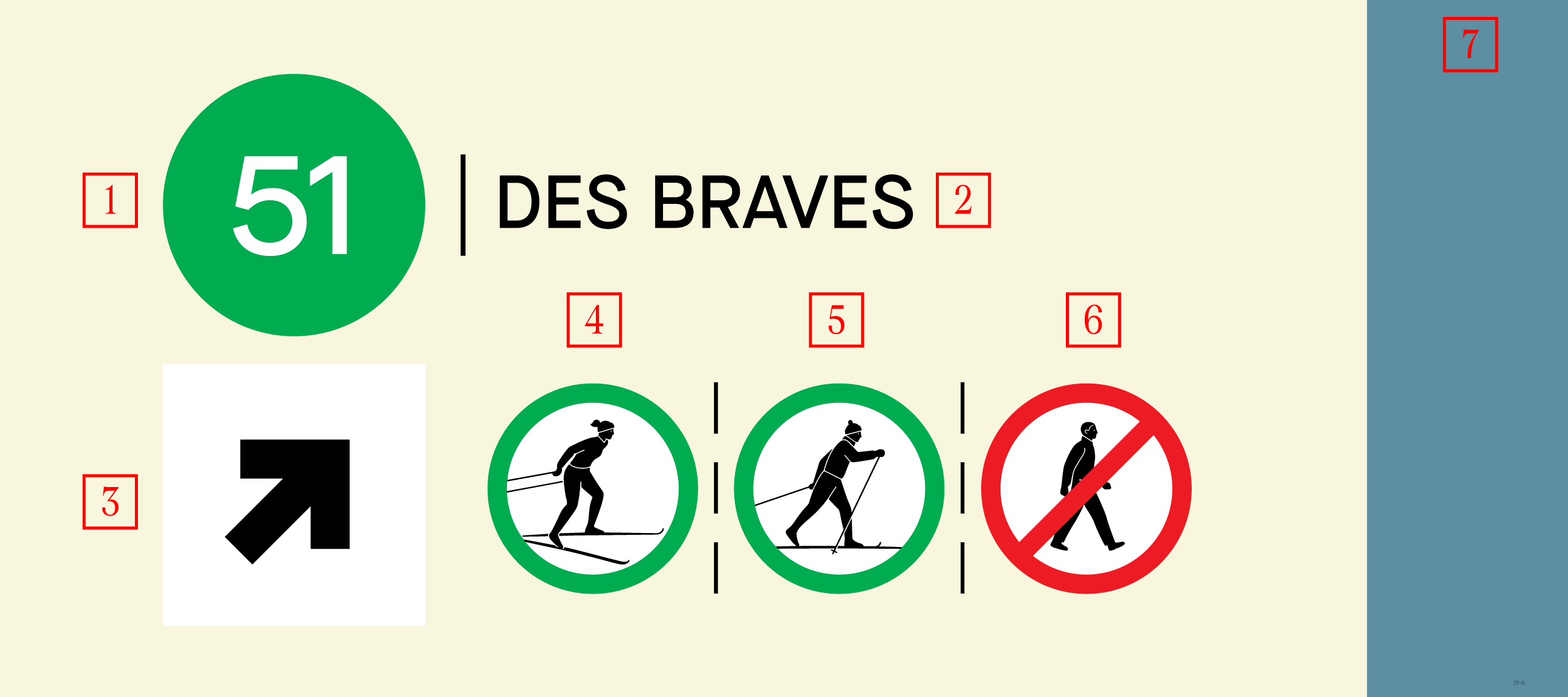 Cross-country ski trail number and difficulty level:
Green circle: easy (beginner)
Blue square: fairly difficult (intermediate)
Black diamond: very difficult (expert)
Name of the cross-country ski trail
Direction of the cross-country ski trail
Trail groomed for skate skiing (left trail)
Trail groomed for classic skating (center trail)
Trail groomed for waling (right trail)
A red circle crossed out by a line indicates that there is no trail for this activity on this path. It is important to respect the trail designated for your activity and not to use the trail for another activity. The grooming team works hard to maintain the different types of trails. Please respect their work!
Cross-country ski trails encountered (numbers, difficulty levels and directions)
Skate skiing trail (left trail)

Classic ski trail (center trail)
Walking trail (right trail)